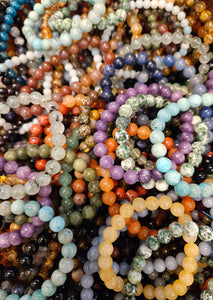 kristinfordjewelry.com
Gemstone Bracelet Trio
***YOU MUST ADD THIS ITEM TO YOUR CART TO RECEIVE THE FREE GIFT WHEN YOU SPEND $50.00 OR MORE***
Your trio of 6-9mm stretchy gemstone bracelets could include a mix of three from the following:
Aquamarine. Amazonite. Rose Quartz. Angelite. Amethyst. Lapis Lazuli. Green, blue and golden Aventurine. Carnelian. Citrine. Moss Agate. Morganite. Apatite. Rainbow Moonstone. Peach Moonstone. Golden Healer. Fire Quartz. Black Obsidian. Shungite. Labradorite. Sodalite. Crazy Lace Agate. Tourmaline. Iolite. Amber. Lepidolite. Garden Quartz. Prehnite.  
Kristin is personally selecting each trio for the balance of color and energy ... just for you.