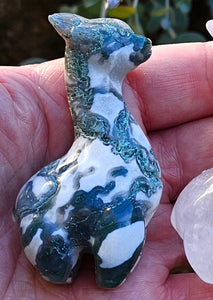 kristinfordjewelry.com
Alpaca / Llama
Is it a llama or an alpaca?  I'm not sure, but I do know they are super cute.
As a person how has spent a lot of time in Peru, communing with the alpacas/llamas at Machu Picchu, this beautifully carved animals have special meaning to me.   The Inca deity Urcuchillay was depicted in the form of a multicolored llama.
Each stands 7cm/2.75" tall.  Moss Agate and Rose Quartz currently available.