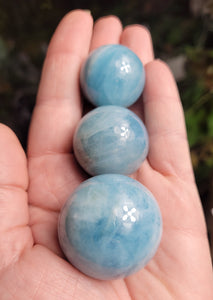 kristinfordjewelry.com
Aquamarine Sphere
Since Aquamarine is one of my favorite stones to carry with me or create jewelry with, I am always on the look out for exceptional pieces at great prices.
We have several size options from which to choose.  Every size as beautiful color.
Aquamarine is a stone of calm, soothing and cooling energy.  It is said to represent happiness, hope and everlasting youth. In ancient times, aquamarine was thought to protect those at sea. It was believed to make sailors fearless and safe from adversaries on the open waters.