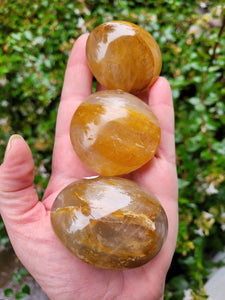 kristinfordjewelry.com
Golden Healer Palm Stones
Each of these top grade Golden Healer palm stones has a beautiful glow, saturated golden color and amazing energy.   
 Golden Healer offers a powerful balancing and healing energy, filled with the divine golden ray of light.   Imagining the energy surround and infuse you with divine light, you can heal that "dark and damaged" aspects of yourself with grace and ease.
I love each of these palm stones.  You can select the one(s) you like most.  The top (closest to my fingers is #1 and the bottom (closest to my palm) is #3.  You guessed it.  #2 is in the middle.