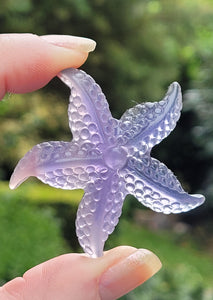 kristinfordjewelry.com
Purple Fluorite Starfish/Sea Star
Oh ... these are so cool.  Great purple color on each of the 2" Fluorite star fish / sea stars.
Fluorite offers energy to support your brain. Enhancing memory, helping with focus and concentration and supporting a positive problem solving attitude.  These stones are great for student's at home desk, office spaces and your bedside table (to support brain repair while you sleep)
All equally beautiful, Kristin will intuitively select each piece for you.