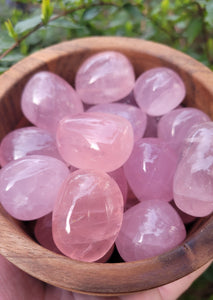 kristinfordjewelry.com
Rose Quartz Tumbles
This top grade quality Rose Quartz is amazing.  Each piece is approximately 1.25" to 1.5" with incredible, natural pink color.  The price is based on weight so the shapes vary but everyone gets the same great value.
Rose Quartz is a stone of kind, gentle, divine love.
Please allow Kristin to intuitively select each piece for you.