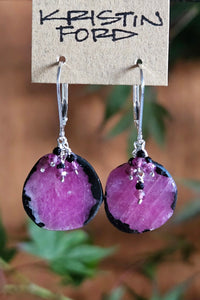 kristinfordjewelry.com
Ruby, Black Spinel & Rhodolite Earrings ERD5523
These stunning and unique earrings feature 14mm Ruby "Slices" accented by Black Spinel and Rhodolite drops.  They hang approximately 3/4" from the sterling silver lever back clasp.
Pairs nicely with NRD5323OX and ERD5323OX
Ruby is a stone of passion that encourages you to follow your bliss.  Black Spinel offers a rejuvenating and revitalizing energy.  Rhodolite promotes creativity.