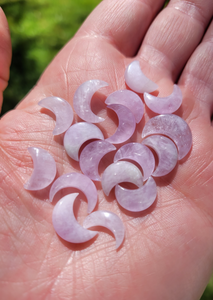 kristinfordjewelry.com
Petite Kunzite Moons
These are the sweetest little moons ever.  When I say petite, I actually mean tiny.  You can see how many fit in my hands.  Yes, I have big hands ... but each moon is approximately 3/4" tall.
Each with amazing flash and wonderful color, these little moons are packed with vibrant love energy.
Kunzite is one of the most loving energy stones I've ever worked with.  Connecting you with divine, unconditional love it is the perfect stone of heal an aching or closed heart.